Website last updated: 06/15/18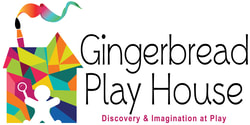 Supporting authentic learning experiences through a delightful
play-based preschool program for young children,
ages 2.5 to 5-years old.

Children have the freedom to discover and learn through
child-led exploration and imaginative play,
all in the comfort of home.
---
Business Hours & Location:
Monday - Friday
7:00 a.m. - 5:45 p.m.
301 228-2753
​leisha.harrelson@comcast.net
Serving families in the Tuscarora/Ballenger Creek area of Frederick, MD 21703

Located in Robin Meadows development off of New Design Road
Close to Wellington Trace, Kingsbrook, Stone Bridge, Hanover & Farmbrook areas

Close to Corporate Drive, Executive Way, Crestwood Blvd., Ballenger Creek Pike, Kingsbrook Dr., Buckeystown Pike (Rt. 85), Industry Lane, English Muffin Way,
Giant at Kingsbrook Crossing & i270/i70 Exits

---
See what truly sets us apart!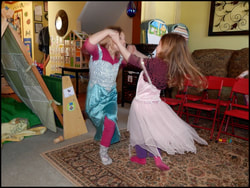 "Play is the highest expression of
human development in childhood,
for it alone is the free expression
of what is in the child's soul."
--- Friedrich Froebel - Father of Kindergarten
---
Mission & Goals: "A child's work is their play!"
At
Gingerbread Play House
we invite children to learn, explore, discover and use their imaginations! Our inviting child care is beautiful, engaging, joyful, print-rich and multi-culturally inclusive. Our mission is to provide exceptional and loving care to preschoolers, ages 2.5 to 5 years old, at affordable weekly rates that include kid-friendly and nutritious meals.
Our goals include supporting children in their play, building relationships and social skills, encouraging children's natural curiosity to explore and discover, and helping to forge a life-long love of learning while they have fun with their peers.
We create authentic art using process art exploration techniques and open-ended materials. This is what early childhood learning is all about... discovering our world...and our place in it!
Read my article on "open ended play" featured on a popular blog in the United Kingdom called "Learning and Exploring Through Play."
---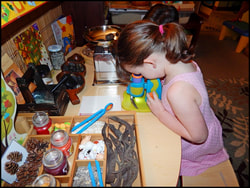 "Play is the highest form of research." --- Albert Einstein
---
Our Philosophy & Inspiration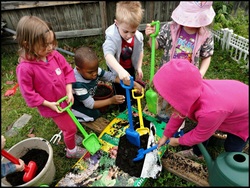 Your preschooler has the rest of their life to become a "big kid"... but only a brief window in time to enjoy carefree days in a loving, comfortable, and stimulating family child care home. The magical preschool years are a time to pretend and play...to leap like a frog... snuggle in a homemade fort...make mud pies in the sun...finger paint...blow bubbles...examine insects and critters up close...plant seeds and help a garden grow...play with puppets...and to act out enchanting and dramatic stories. It's a time for early friendships to blossom...and a time to build social skills, critical thinking skills and life skills before entering the world of big kid-dom.

I wholeheartedly believe that child care in a family home is the best alternative for working parents of young children. When done right, family child care offers a small, nurturing, imaginative and secure setting for children to flourish during the most formative time of their lives. Gingerbread Play House is set up to promote a wide variety of play experiences for individual and small group play to help prepare children for life.
---
---
Licensed and Credentialed Child Care Provider (LEVEL 5)

by th

e

Ma

ryland State Department of Education,

Office of Child Care, license #156621.

Provider is lead preschool teacher &

school-age teacher qualified for any child care center.