Parent Testimonials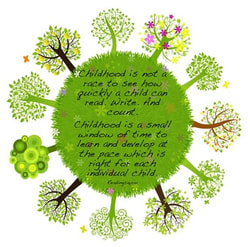 Here's What Parents are Saying About Gingerbread Play House:
​

"Leisha, I have delayed writing this letter for quite some time now; not because I don't have much to say but because I can't begin to find the right words to express how incredibly grateful we are to you. You really are a Godsend and Victor is not the only one who adores you. Over the past two years, Victor has not only found a place to make friends, learn and grow but he has found another adult he can trust wholeheartedly and a place where he is (most importantly) safe. That is priceless for parents as you know. There is no amount of money or gift special enough that I could give to repay you for the peace of mind you have been able to give to me. Not everyone can stay home with their children, and leaving them is one of the hardest decisions we make as mothers. But to find someone who treats them as you would, disciplines them as you would, and loves them as you would is such a rare find; especially in the world we live in today. With that said, THANK YOU, for being such a special part of our lives these past two years. Although, this is not good-bye forever, we are certainly going to miss seeing you everyday. Please accept this gift basket with things just for you as a small token of how much you have been appreciated by our family. We love you so much!!"
---Ivon Claros (mother of 5-year old son)
​
"My daughter has been going to Ms. Leisha's since last year. I knew from the moment I walked in that this was the place for her. After having a bad experience with home daycare when my son was little, I was very hesitant and cautious about choosing a provider. I have never second-guessed this decision! I never have to worry about my daughter because I know that she is in the best care in Frederick. Ms. Leisha is well organized and truly passionate about helping the children learn and grow as individuals. You won't find a better program than hers!"
---Christina Mellott (mother of 4-year old daughter)

"Our 4-year old daughter has attended Leisha's play based program for a year now. I can't say enough great things about Leisha's program - I would need to write an entire page! When we first visited Leisha's home, we immediately noticed that the children's area was on the main floor. This was really important to me as it left me with the impression that taking care of children was more than just means of income - it is a major focus and passion. The time and energy that Leisha puts into the creative play options, child evaluations, monthly newsletters with informative child development articles, etc. shows her dedication to helping children develop through play. The space is neat, organized and changes frequently so that the children don't get bored. Leisha is organized and thorough in everything she does and that is such a comfort since both my husband and I work full time and we can't afford a lot of surprises with our child care arrangements. Leisha does more than just supervise the children - she understands the importance of instilling the intangibles like manners and life skills like cooperation, sharing, conflict resolution, etc. Most important of all: Leisha has a genuine love for her work and for the children. Our daughter loves going to "school" and has felt comfortable there from the first day. We feel fortunate to have found this very special place!"
---Tia & Kevin Dowdell (parents of 4-year old daughter)
"
My family had just recently moved to the Frederick area and I needed to find a new daycare for my daughter. I searched extensively and finally came upon Gingerbread Play House. From the start, I liked everything about this wonderful place. I made the best decision I have ever made by enrolling my daughter in Mrs. Leisha's care. She is warm, caring, and an ideal teacher. She believes that children will learn best through interactive play, and I couldn't agree more! Not only does my daughter have tons of fun when in daycare, she is learning so much. Mrs. Leisha sets up different materials at the discovery table so the kids can gain a great deal of information on a number of topics. Mrs. Leisha communicates everything with the parents and takes so many pictures, which keeps parents in the loop. One of my favorite things about Gingerbread Play House is that Mrs. Leisha has made it her mission to have these kids ready for kindergarten and I am so happy that I chose to have my daughter start her school career in this wonderful setting. Mrs. Leisha has set the stage for my daughter to want to learn and to be as curious as possible. My daughter can't wait to go to Gingerbread Play House in the morning and it's hard to get her to leave! I would most definitely recommend this preschool program to anyone looking for the best possible care for their child!"
---Anne F. (mother of 4-year old daughter)
"Gingerbread Play House is a magical place! Mrs. Leisha makes every day a fun-filled adventure of learning. The kids are always engaged in hands-on learning experiences that foster collaboration with others and encourage the kids to use their creativity and imagination. The preschool program that Mrs. Leisha uses is engaging, fun, and offers an authentic learning experience for all learners. Our son has walked away with a wealth of knowledge of skills needed for him to be successful in Kindergarten, and he has also gained the confidence and drive to want to learn and continue to be successful in his many years of education to come. We give all the credit in the world to Mrs. Leisha for being the one who has encouraged our son to soar above every obstacle he comes across and to conquer all that he wants and more! We can't wait until our little girl gets to have the same amazing experience as her big brother. As parents and elementary school teachers, we highly recommend Mrs. Leisha and Gingerbread Play House!"
---Michelle & Mike Ramarge
(1st and 5th Grade Teachers at Orchard Grove Elem. and Parents of Son, age 5)
"The first thing I should wholeheartedly tell you is to look no further for quality care and a preschool program for your child. Sending my 4-year old old son to Gingerbread Play House was the best choice I could make for him and for my piece of mind as a mother. Leisha offers a loving, safe and nurturing preschool program, with the benefit of your child getting more one-on-one attention, unlike being in a center with 20 other children. The photos on her website are just a sneak peak on how engaging and wonderful her classroom setting is in her home. It is remarkable how her home is transformed into an actual classroom. My son adores Mrs. Leisha and his friends at Gingerbread Play House, and cannot wait to get there on his days. As a former pre-k teacher myself, it was very important to me to find a quality preschool program for my child. We have been very blessed to have found Mrs. Leisha and Gingerbread Play House. I encourage your family to set up a visit with Leisha, and see first hand all that Gingerbread Play House has to offer your child. (Please don't hesitate to give me a call; I could gush on and on about how GREAT Mrs. Leisha is.) A very happy and satisfied Gingerbread Mom."
---Angela Augustine, 301 693-3533 (former preschool teacher & mother of 4-year old son)
"Gingerbread Play House has been a safe and wonderful place of learning for our four year old son, Emmanuel. Not only has Mrs. Leisha guided him into mastery of his basic academics but she has used fun and engaging activities to connect him to understanding concepts that are far above what most centers endeavor to teach their students at this level. As educators ourselves, it has been a joy to see our son come home with a distinguished vocabulary: able to discuss everything from what tools are needed on a camping trip to which clouds cause tornadoes. We love Gingerbread Play House and know that you will too!"
---Jason & Jilcia Johnson (school teachers and parents of son, age 4)
"...Leisha offers a wonderful learning environment that is warm and caring...Leisha makes it very clear that this is her passion and she treats all the children so sweetly and makes them feel so special...Gingerbread Play House truly goes above and beyond what normal child care is. My children have been in other at-home child care centers and this one just blows them away! It has the perfect mix of learning through play and activities, allowing the children to be individuals. I am so lucky my children had the opportunity to go and learn so much, and we have built a lasting friendship along the way. I would recommend this center to any and everyone...and I already have!"
---Kasey S. (mother of two daughters, ages 3 & 4)
"Mrs. Leisha has a true gift of providing a warm, caring and educational environment for my 3-year old and 5-year old. When I ask my 3-year old how her day went at daycare, she begins to tell me that Mrs. Leisha took us to the park and we had a ball! And do you know what?...while we were at the park Mrs. Leisha chased us around the park pretending to be a shark!!! I tried to get away from her. As my 3-year old was telling me this story she couldn't help from laughing. With this story I knew that Mrs. Leisha has a true passion for caring for children because of her young-heart, creative mind and dedication to the well-being of children in her care. Everyday when I picked up my children, they would have beautiful masterpieces and a detailed description about their day's events. I am 120% impressed with Gingerbread Play House's nurturing and learning environment. Mrs. Leisha is not only warm-hearted to the children she cares for, she is also a straightforward business woman. I would recommend this center to everyone...and as a matter of fact, I already have!"
---Kelly M. (mother of two daughters, ages 3 & 5)
"I really like Gingerbread Play House. Mrs. Leisha is wonderful, very friendly...and the kids really like her. After being with a different daycare provider where I had to literally drag my son out of bed in the mornings and he almost always cried at drop-off, I am very happy to report that he has totally changed his daycare outlook! Now, his first question in the morning is an enthusiastic, "Do I get to go to Mrs. Leisha's today?"...and he tells me that we have to hurry so we won't be late. Imagine that! My 4-year old has learned a lot in the time he has attended! Mrs. Leisha teaches the children in a very playful way! They also play outside often, she has tons of nice toys, and she does arts activities with the children. I am a very satisfied parent. I absolutely recommend Gingerbread Play House!"
---Stephanie S. (mother of son, age 4)
"After having taken our children to a variety of daycare providers over the last few years, my husband and I have learned that the best indicator of a good caregiver is that our children are excited to go in the morning and a little sad to leave in the afternoon/evening. Leisha and Gingerbread Play House have consistently given our children that experience since they started attending in August 2010. Our children love and crave the learning, the care and attention, the outdoor play, the games, and endless activities that their caregiver offers them. As parents, we couldn't be happier to know that they are in such good hands during the day when we cannot be there for them. From a business standpoint, Leisha is very professional and honest. She is flexible in her hours and offers excellent rates for the Frederick, MD area. We are very pleased with her services."
--- Amy D. (Montessori School Teacher of Infant/Toddler Room and Parent of two sons, ages 9 & 5 & one daughter, age 4)
"Parents, the best decision I made was to enroll my son at Gingerbread Play House. As a first time mother, I was very nervous and anxious about this big step for myself and my son but Mrs. Leisha made the transition so easy! It was very reassuring to know that he had other children his own age at her child care and that she has so much knowledge for children under her belt. My son started kindergarten this year and I am more than confident that he will do great. Thanks to Mrs. Leisha who has/had all the tools to make it possible. I give her all the credit for preparing him for this new chapter in his life. My son still asks to visit with Mrs. Leisha and his friends at Gingerbread Play House."
--- Tracy M. (mother of son, age 5)
"Dear Parents, I could not be happier with the care and education that my two children have received while at Gingerbread Play House. My son is about to enter kindergarten this Fall. Since last October, he has learned so much in such a short period of time with Mrs. Leisha. I am confident that now, after being in school with Mrs. Leisha, that he is ready for kindergarten...I'm not so sure if kindergarten is ready for him though! He hasn't just learned a lot, he has had a great time while learning! He has made a lot of new friends and has learned very important social skills that only come from a school-like setting. I am always so impressed with the projects and activities; it is really clear that Leisha has a great understanding of age and developmentally appropriate games and art. My six-year old daughter just started attending Gingerbread Play House this summer. She is enthusiastically enjoying the summer activities (including an occasional dip in the pool), and she often lets me know that she wishes that Dom's school was her regular school because they have all of the fun! Most importantly, I feel that my children are in great hands. I have never once questioned their safety and I know that Leisha really cares for her "kids." My son loves his school, classmates and his teacher. And, my daughter loves coming over the summer months to share in the fun activities with her brother before returning to school in the Fall."
---Gina M.
(mother of 1 son, age 5 & 1 daughter, age ~7)
---
Licensed and

Credentialed

Child Care Provider (LEVEL 5) by the Maryland State Department of Education, Office of Child Care, license #156621. Provider is lead preschool teacher & school-age teacher qualified for any child care center.